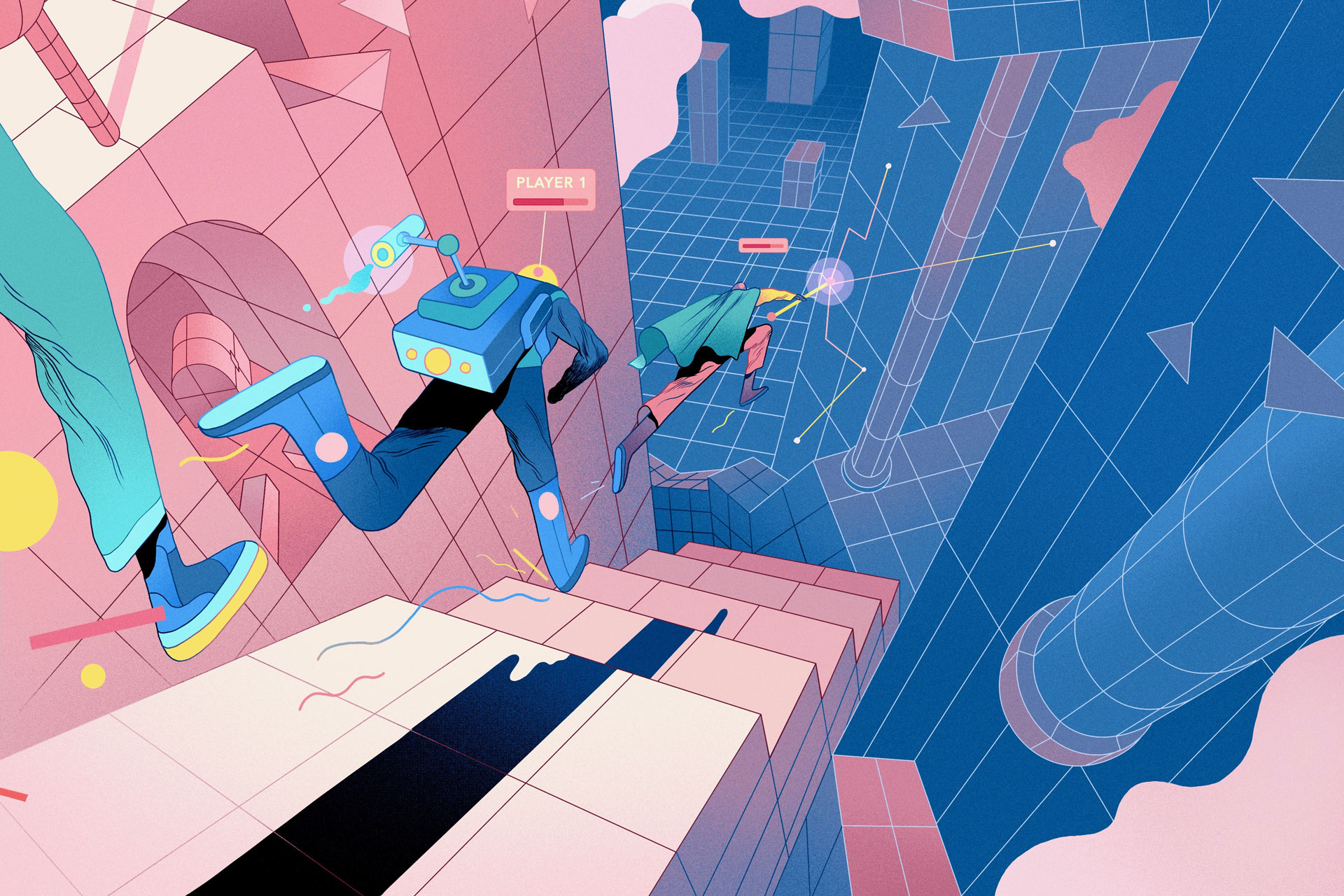 The illustration scene in Denmark is rife with talent for such a small country, which in part is why Copenhagen-based artist Rune Fisker (b. 1974) has mostly focused on working internationally. Providing his "chaotic colorful surrealism" to clients like tech giants Apple and Google, as well as renowned editorials New York Times, Wired Magazine and The Atlantic, it is safe to say this particular approach has been a success.
Developing such a distinctive and vibrant style while working mostly commercially is a challenge, though, and Fisker is mindful of making sure to push himself creatively, "It's a thing I'm often struggling with. I try to inject my personal style and try out different approaches". It is often the editorial work that leaves Fisker with room for interpretation, "The turnaround is faster with fewer revisions than on commercial jobs, where the briefs are often very detailed and there are several revisions before I make the final illustration. With editorials, I usually start by reading the article, then do an hour of visual brainstorming making quick thumbnails. I'll choose one or two of the good ones, which I make as more detailed black and white sketches and present to the client".
The increase in demand of his commercial work has also had an effect on Fisker's technical approach, "I used to do all my line work the old fashioned way with pen and paper, scanning the line art, cleaning it up and coloring it in Photoshop. Commercial jobs with super tight deadlines meant that was unfortunately too time-consuming. So for commercial jobs, I do most of my work 100% in Photoshop now and sometimes a bit of Illustrator if it's a job with a lot of graphic elements". It's a change Fisker is not entirely happy with, "I do miss the "old" days of working with pen on paper. I just feel I have a better sense of the overall piece I'm working on: the weight and distribution of elements and the balance of light and darkness".
In periods with many packed deadlines, Fisker stresses: 
"I think it's very important to find the time to experiment and try out new things, which can be hard when your week is packed with deadlines, and you have to work like a whipped horse to meet them. I try to find the time to do personal drawings and projects in between the jobs".
One such personal project is an animated collaboration with his brother Esben through their shared company Benny.Box. The animation is a 1-2 minute short film, which Fisker explains, "started as out as a series of sketches in my sketchbook, just doodling, trying to create a visual flow. I thought it could be interesting to make a short that has the same feeling I try to convey with my personal work, a sort of slow-­motion slightly surreal dream, where characters are on the run, away or towards something they don't quite understand". Fisker estimates the animation work is 70% done but warns progress is slow, as it is only being made between jobs. One thing is certain: It will look absolutely spectacular.
Meet the Artist
Rune Fisker
Nationality: Danish
Profession: Illustrator and animator
Education: School of Design, Denmark, in Visual Communication
Credits
Text: Rebekah Villon
Photo: © Netflix

WeAnimate Magazine is dedicated to all the people who animate and make things, lines, and ideas come to life.
WeAnimate ApS is founded and owned by The Danish Animation Society (ANIS) www.anis.nu
Tell us what you think? Tell us at hello@weanimate.dk | #weanimate | our Privacy Policy