Between the Madcap and the Mundane
– Little Allan and Amalie Næsby Fick
Between the madcap and the mundane
Little Allan and Amalie Næsby Fick
Film Director Amalie Næsby Fick Reflects on the World Around Little Allan
In the Danish animated film Little Allan – The Human Antenna, a young boy finds an unexpected ally in an alien girl researching Earthlings for a school presentation. The film's director, Amalie Næsby Fick, talks about overcoming anxiety, moving between live-action and animation, and working harder than ever even during lockdown.
"My name is Obama, and I come from Silkeborg!" insists the alien girl Maiken, her green face hidden behind a cardboard mask, after crash-landing her UFO in the middle of Taarnby, a sleepy town outside of Copenhagen. "My interests are fish and the internet!"
Her clever disguise doesn't quite fool the 11-year-old eponymous protagonist of Little Allan: The Human Antenna, a new Danish animated film from director Amalie Næsby Fick. Little Allan has just moved to town with his father following his parents' divorce, and has spent his first night there hanging from the roof of the building wrapped in tinfoil, hoping to help his eccentric new neighbor Helge contact alien civilizations – and prevent the invasion Helge insists is imminent.
But Maiken isn't here to enslave humanity. A kid herself, she has come to research Earthlings for a school project, only to find herself stranded when the local janitor nabs her UFO before she can get back to the cosmos. Now it's up to Little Allan and Helge to help get Maiken spaceborne again – while keeping her hidden from the janitor's brother, an avid taxidermist on the lookout for an exotic specimen. "Finally, we shall have an answer:" exclaims the murderous collector at one point. "Is there life in the universe – and can it be stuffed?"
Little Allan: The Human Antenna is a madcap family adventure, and Amalie Næsby Fick expertly mines the outlandish premise for fish-out-of-water comedy. "What I was going for in the film was some sort of mix between sci-fi and kitchen-sink realism," she says in a Zoom interview, explaining how the drabness of the environment serves to underscore the comedy. "The more real that world feels, the funnier it is when a UFO suddenly crashes into it."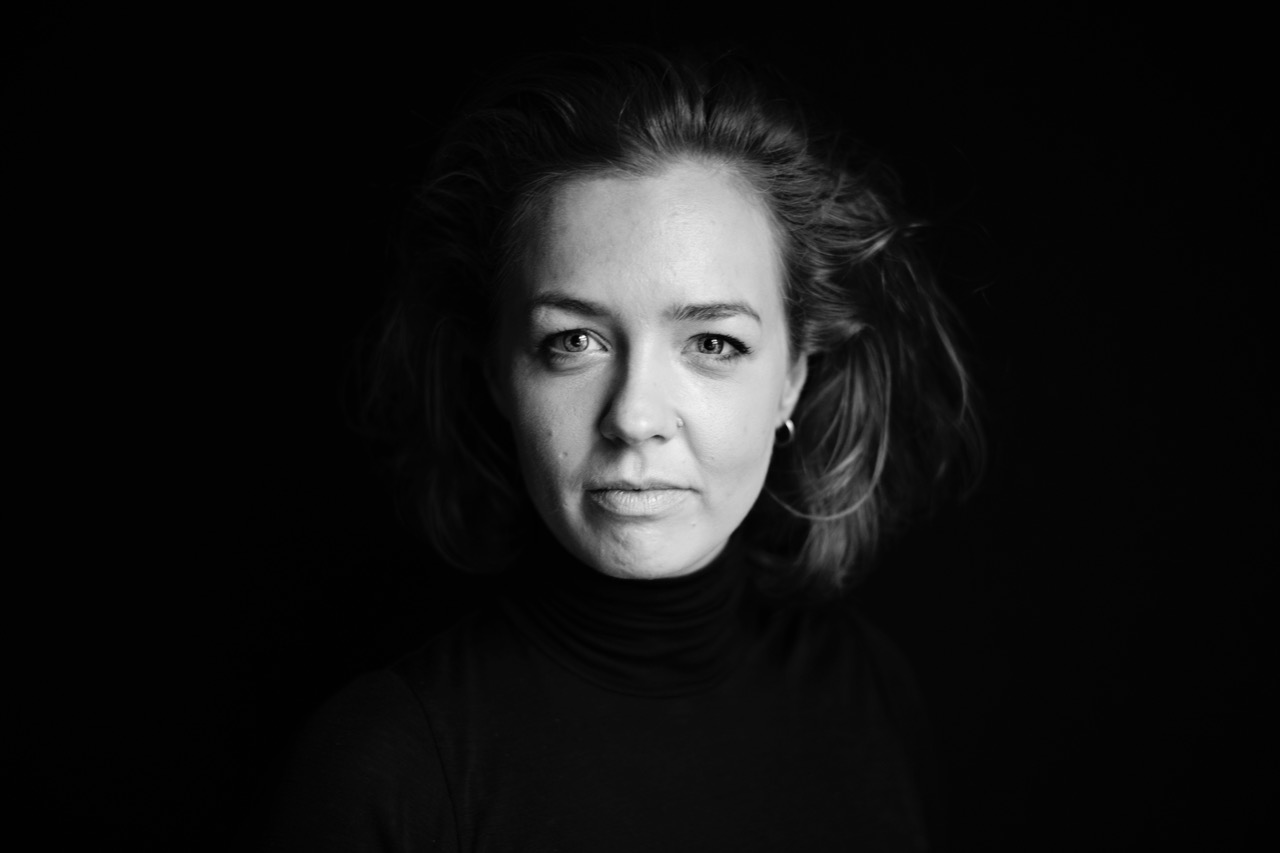 A DREAM PROJECT
Since graduating from the National Film School of Denmark in 2016, Amalie Næsby Fick has moved seamlessly between animation and live-action, co-directing the successful animated film The Incredible Story of the Giant Pear (2017) before helming the acclaimed live-action web series Sex (2020), which premiered at the Berlinale, on her own.
Little Allan: The Human Antenna has long been a dream project for the director, as she first read the children's book of the same name, by comedian Peter Frödin and author Line Knutzon, when she was still in film school. She was immediately drawn in by what she calls the poetry and humor of their universe, and when the chance came to direct an adaptation after working with Peter Frödin on The Incredible Story of the Giant Pear, Amalie Næsby Fick sought inspiration in the films of her childhood.
While namechecking Spielberg classics – E.T.: The Extraterrestrial being the obvious comparison – Amalie Næsby Fick reveals that a much closer inspiration was the 1993 family adventure Free Willy, about a young boy who saves an orca from greedy aquarium owners. "It's a film that really takes its tone seriously," she explains. "It fully embraces the world of its child protagonist while also insisting on this fantastical adventure. That was a big inspiration."
OVERCOMING ANXIETY
Along with screenwriter Thomas Porsager, Amalie Næsby Fick set about adapting the book and decided early on to use Allan's gradual acceptance of his parents' divorce as a narrative throughline for the film.
A shy kid, Little Allan puts on a brave face and insists he's fine, but, like the lovelorn and neurotic Helge, he has simply built a protective wall around his feelings. "Allan internalizes his feelings, so he has built this reality around himself where his mother doesn't have the energy to see him. The characters are all united by a shared sense of anxiety, carrying pain that they're unable to overcome," explains Amalie Næsby Fick. "That's an aspect of the story that was close to my heart because I also suffer from anxiety."
As a contrast, the forthright Maiken is able to read thoughts and is puzzled by why anyone would ever want to keep them to themselves – on her planet, it's impossible not to tell people how you're feeling. "Telling people how you're actually doing can feel like this completely insurmountable barrier, like this mountain you can't climb. It feels dangerous. But once you start talking to people, you realize that that feeling actually can go away. So, on a personal level, that's something I really wanted to say with the film."
THE DREAM OF A FINISHED ANIMATIC
With the screenplay finished, the team went about developing storyboards and creating animatics. "That was a good process, because we also let the story be influenced by what was happening visually and could go back and forth and do new iterations of the script," explains Amalie Næsby Fick. 
Working on the animatic allows the creative team to get a feel for how the story beats are going to play out in the finished film and is an important tool for developing the story. "Ideally, I'd be doing the animatic for much longer," says the director, mentioning how directors working for Pixar are able to finetune animatics of the whole movie before moving onto final animation. "Obviously," she hastens to add, "they have comparatively unlimited resources."
Within the budget constraints of local language animation, such luxury is rarely an option. "The way financing works is that the process of creating an animatic isn't part of the development, but part of the production of the film. By then you're already sitting down with your team and planning all parts of the film production, and you've got a huge machine already running."
With different departments already working concurrently, there is less freedom to make changes. "If you change too many things while they're being built, obviously you're throwing things out the window," she says, a little ruefully.
FINDING A CINEMATIC LOOK
Even if she might have wished for more time, Amalie Næsby Fick is quick to credit her collaborators at Danish animation studio Wil Film with helping to realize her vision for the film. In particular, the company's focus on pre-visualization – a rough sketch of camera movements, more technical than the animatic – helped her develop a distinct visual look for the film. "We had a long time to work on the camera and explore the visual language, which is a big part of how we managed to create such a cinematic film. It's a very different method of animation than what I'm used to, so it was also a great learning experience for me."
Although she's not inviting comparisons – "It's hard to look at films where one minute of their film is the entire budget of yours," she grins – Amalie Næsby Fick mentions Cloudy With a Chance of Meatballs (Sony Pictures Animation, 2009) as an important touchstone for the film's visual look. "What I think that film does so well is that it dares to be so cartoony while still having something to say. You could have never made it as a live-action film. And I think we also succeeded in making a film that's very caricatured and funny in some moments, and more serious in others."
WORKING HARDER FROM HOME
When the pandemic hit, Amalie Næsby Fick was impressed by how quickly production managed to adapt to an online workflow – while still working at a higher capacity than she had ever done before. "The animators had to deliver 22 seconds per week," she confides, pausing for emphasis. "That is a lot. And it's a lot more than I tried doing before. But because it was so well-planned, and because we were so clear about the animation style, we were able to work much faster."
"That doesn't mean I'm saying you should do 22 seconds per week," she is quick to add. "I'd much rather do less, but I think it went well. And people were fucking awesome, you know?"
With production nearly wrapped on Little Allan: The Human Antenna, there is the question of whether a sequel might be in the offing should the first film do well. "Well, there is one more book, Little Allan and the Doppelganger School," explains Amalie Næsby Fick. "And of course that's something we're talking about. We'll have to see if it's possible."
But Amalie Næsby Fick isn't about to start fixating on any one project. Already deep into production on an unnamed Danish-language Netflix series, she doesn't limit herself to animation or live-action, but moves freely between both. "I think it's nice to be able to move freely," she explains, before summing up her storytelling approach: "That way, I always stay in service of the story."
Little Allan: The Human Antenna
 

is out in cinemas across Denmark on July 28, 2022.
Credits
Written by Niels Jakob Kyhl Jørgensen
Photo by Philip Davali
Images and artwork courtesy of Wil Film. ©2021, all rights reserved

WeAnimate Magazine is dedicated to all the people who animate and make things, lines, and ideas come to life.
WeAnimate ApS is founded and owned by The Danish Animation Society (ANIS) www.anis.nu
Tell us what you think? Tell us at hello@weanimate.dk | #weanimate | our Privacy Policy